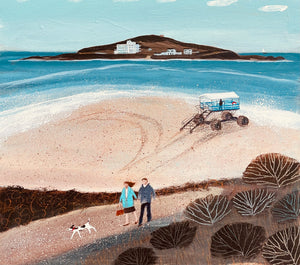 Barbara is a new artist to us,  I am thrilled to be showing her work and even more excited that she has painted the local area. 

Media: Acrylic on wood panel

Dimensions: Painting 40 x 45cm Frame size 53.5 x 58.5cm 
Artist Bio: Barbara Peirson

Barbara sometimes she work as an actor, sometimes as a theatre director but always as a painter. Painting threads through everything; it's a continuum. She paints every day, it's the first thing she does when she wakes in the morning and she usually carry on through to the end of the day interspersing it with the activities of daily life.  When work takes her away from home she has paints with her and scavenges pieces of cardboard to paint on. She works mainly in acrylics and the process is of layer upon layer of adjustment.

Most mornings she goes out along the estuary where she lives, to watch dawn light mirrored in the water and wet mud; the ebb and flow of the tide; migrating birds swooping in and out; small fishing vessels leaving and returning; mists descending and dispersing.
This is Barbara's first collection of paintings of the Devon coastline and she has enjoyed discovering new views and inspiration.

Shipping Info:
Postage on this item is a flat rate of £3.95. Ordering more items is still only £3.95. (There are exceptions for heavy/bulky items. These are listed separately.)
Local Collection.
You are welcome to collect this from the gallery, just select this option at check out.