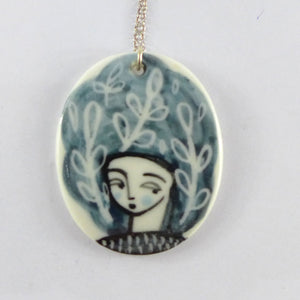 Karen Risby had a really successful exhibition with us in 2021 and is now showing here all the time, her work has held great appeal to Baxters customers. Her beautiful blue and white colour palette is very fresh and her illustrations just charming.

Media: Ceramic on silver chain

Dimensions: 4 x 4.5cm
Artist Bio: Karen Risby
Karen Risby creates contemporary wall hangings, tiles and porcelain accessories. Her work is an extension of her love of drawing, exploring pattern and line using both brushwork and sgraffito, a process that involves scratching back into the painted surface. She takes inspiration from nature, myth and story-telling; birds are a prominent feature of her work often interwoven with landscapes and decorative motifs.
 All of Karen's work is handmade and hand painted with ceramic stains, underglaze and oxides. After the bisque firing the work is glazed with a lead-free transparent glaze and fired to stoneware. Some work then has gold lustre applied and undergoes a third and final firing.
 Originally from London, Karen graduated from Camberwell College of Art in 1994 then lived and worked in South London for many years before moving to Suffolk to set up her new ceramic studio in 2010.

Shipping Info:

Postage on this item is a flat rate of £3.95. Ordering more items is still only £3.95. (There are exceptions for heavy/bulky items. These are listed separately.)
Local Collection.
You are welcome to collect this from the gallery, just select this option at check out.