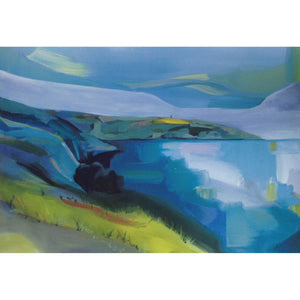 This is a new size in this stunning limited edition print of a painting in pastels and ink by local artist Helena Clews and really evoking a sense of the coast line near Dartmouth, this piece is mounted and framed in a contemporary white frame. 
Media: Giclee print on handmade paper. Printed in Dartmouth

Dimensions: 93 x 73cm framed
Artist Bio: Helena Clews
Helena is a local artist who trained for her Master's in Fine Art at Central Saint Martins, London, specialising in painting. Afterwards she continued to paint in London but desperately missed the sea. She then decided to leave her North London studio to fulfil her dream to move to Devon and paint by the sea. She now continues to explore colour, line and texture in her paintings and is constantly inspired by the sea, the light and beauty of Devon.

Shipping Info:
Please contact us to arrange shipping as this item is too big to send by normal courier. It will be delivered by an art courier within the next 1-3 weeks depending on your location. Email us at info@baxtersgallery.co.uk or phone 01803 839000 and we can advise cost and a delivery date.