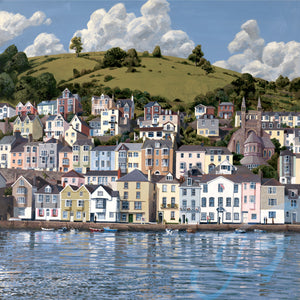 A print of a view painted by John Gillo - a favourite Dartmouth artist of over 40 years. Depicting Bayards Cove, South Town and Above Town and the Royal Castle Hotel. The coloured houses and the reflections in the river will bring back many Dartmouth memories. The print is available in 2 sizes mounted and can be bought framed in the gallery only. 
John has added a watermark to his images on the bottom right corner - this will not be on your print.
Media: Limited edition Giclee printed in Dartmouth on handmade paper
Dimensions: Prints available in 2 sizes: Image 25.5 x 25.5cm (Mount 40 x 40cm) Image 35.5cm x 35.5cm (Mount 50 x 50cm)
 

Artist Bio: John Gillo
John Gillo studied Fine Art at Brighton school of Art (now Brighton University). He taught in various schools and colleges until 1976 at which point he established his gallery in Dartmouth. He became known for his watercolours, but latterly prefers to work in acrylics on canvas or board. He draws his subject matter largely from Dartmouth and the surrounding area. He has now retired from the gallery, but continues to paint.

Shipping Info:
Postage on this item is a flat rate of £3.95. Ordering more items is still only £3.95. (There are exceptions for heavy/bulky items. These are listed separately.)
Local Collection.
You are welcome to collect this from the gallery, just select this option at check out.