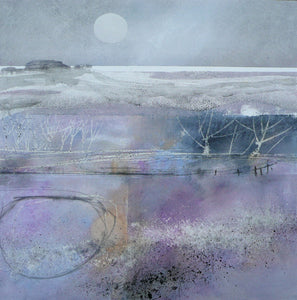 Each of Ruth's lovely paintings are a complete scene which evoke a beautiful mood. Their off white wide wood frame enhances this feeling which would create a calm atmosphere within a room. The fact that they are unglazed means you can appreciate the texture and different paint techniques even more.

Media: Oil painting on board
Dimensions: 36 x 36cm
Frame Size: 50 x 50cm
Artist Bio: Ruth Taylor
Ruth's training as a textile designer has been an influence and is evident in her work. Her paintings are inspired as much by a love of colour and texture as by the English countryside, the moors and estuaries as well as the South Downs landscape of her childhood. She loads the canvas or board with paint, moving it around with brushes, combs, and even her hands, looking to capture a particular light or the effect of the weather and the seasons on the land.

Shipping Info:
Postage on this item is a flat rate of £3.95. Ordering more items is still only £3.95. (There are exceptions for heavy/bulky items. These are listed separately.)
Local Collection.
You are welcome to collect this from the gallery, just select this option at check out.