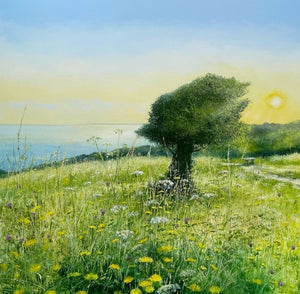 The detail in Heather's paintings is fascinating to our customers, her foliage in particular. They all have the feeling of drawing you into the painting and following the paths through them. This view from the coast path at Little Dartmouth with a welcome bench is known to many a walker as you head towards Start Bay. Framed in a white painted wood frame, the fact it is unglazed means you can appreciate that oil detail even more.
Media: Oil on canvas
Dimensions: 70 x 70cm
Frame Size: 89 x 89cm
Artist Bio: Heather Howe
Heather's training as a Printmaker working in etching and aquatint meant that 'light' and texture in the landscape was always a significant part of her work. After Art School she painted mainly in watercolour using her love of light to create paintings full of dappled sunlight in gardens for galleries in the South East that led to her work being shown at Chelsea Flower Show. Now working entirely in oil with a knife! Heather tries to capture the same quality of light in her paintings of landscapes, gardens and her much loved woodlands.

Shipping Info:
Postage on this item is a flat rate of £3.95. Ordering more items is still only £3.95. (There are exceptions for heavy/bulky items. These are listed separately.)